"In Ancient Latin American Cultures, the Jaguar has always been considered, as the Sun of the Underworld. The one in charge of destroying all of our negative unconscious patterns. Presenting itself during the dream state to heal destructive patterns, heal negative emotions and ideas, getting rid of fear and obstacles"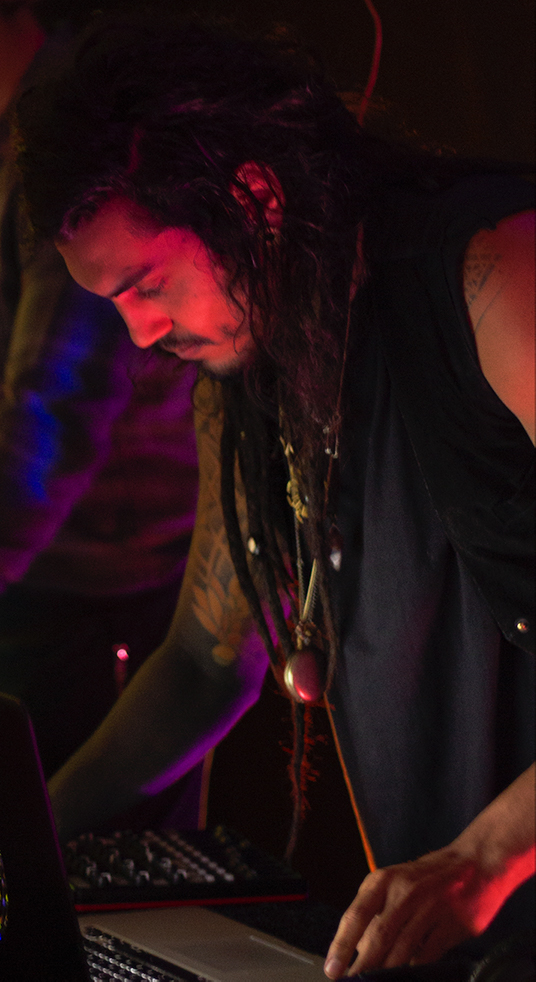 JaguarTree (Neto), is a Costa Rican  Music Producer, who has been channelling electronic music since 2015. His first steps in sound production were through several Space-Rock-Reggae bands and the composition of contemporary dance and theatre scores – enabling him to experiment beyond normal compositions to create music in a more cinematic and Sci-fi approach.
In 2016 he released his debut Ep "Music Of The Spheres" as JaguarTree, followed by "DMT Singles" in early 2018. This opened doors to play live around Central America and Europe. During the years, the JaguarTree project has evolved into psychedelic, global bass,  midtempo, world fusion, that has grown an international following.
After playing in venues and festivals globally, the late 2018 saw the release of a new project, JaguarVizions. Planting the seed of an exploratory psytrance style that aims to be every time more into a deeper experimental Darkpsy. Fusing elements of world music and other ethereal shamanic frequencies.
In May 2019, XEONZYNE (aka Tribal Species) was born. This 3rd Project is based on the exploration of  Deep and Dark Progressive grooves. Aiming for a very experimental and advanced sound, an ongoing sacred sci-fi dancefloor experience.
In June 2021, the JaguaTree project, joined the Merkaba Music family, with one of the most important releases till today for this artist:     "Relics of Consciousness"
All three projects have been carved and polished in the deepness of the forests and lakes around the planet, where this producer tends to live.